Albany County Medical Reserve Corps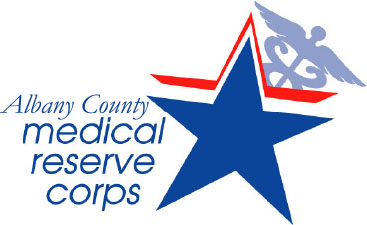 Mission
The Albany County Medical Reserve Corps (MRC) enhances Albany County's emergency preparedness efforts by ensuring that a trained group of healthcare professionals and community volunteers are ready to assist the County in response to a public health emergency.
Local Emergency Assistance
In the event of a major disease outbreak or bio-terrorism event, the Albany County Department of Health, in conjunction with community partners, is preparing to open multiple Point of Dispensing (POD) sites throughout the County. These POD sites will serve to distribute medications or vaccinations to large segments of the County's population.
Medical Reserve Corp members, both clinical and non-clinical will be key in staffing the POD sites. Non-clinical volunteers will perform administrative support roles such as registration, data entry, interpretation, crowd control, and assisting with special needs residents. Clinical volunteers would be integrated with Department of Health staff to conduct medically appropriate tasks.
The Albany County Medical Reserve Corps is looking for licensed medical professionals including: Physicians/Physician's Assistants, Nurses – NP, RN, LPN, Dentists, Pharmacists, Veterinarians, Paramedics, Mental Health Professionals, Respiratory Therapists, Epidemiologists, and Social Workers.
In addition, we are looking for community members without medical training to play a vital role as interpreters, administrative assistants, educators, inventory/supply, management, data entry, and other roles as identified.
Training Requirements
As a member of the Albany County Medical Reserve Corps you will receive regular updates regarding upcoming training opportunities, drills, and a quarterly volunteer newsletter. In addition, we conduct quarterly phone drills using an automated phone system to test our volunteer notification and activation process. Attendance at trainings and drills is encouraged but not required.
Are You Ready to Join the Albany County MRC?
Thank you for your interest in joining the Albany County MRC. You can register online through the SERVNY online registration system. Once we receive your registration form, you will be sent an official MRC Welcome packet and begin receiving regular communications regarding trainings, drills, and other important MRC information.
2020 Newsletters
2019 Newsletters
2018 Newsletters
2017 Newsletters
2016 Newsletters
2015 Newsletters
2014 Newsletters
2013 Newsletters